SIZE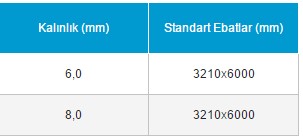 Usage areas
Low-E glass can be tempered Sisecam Solar, thermal and solar control feature with users
Provide comfortable living spaces;
tempered with the ability to provide solutions for safety purposes.
Neutral 71/43; heat and solar control as well as transparency and low reflectivity fore the residence,
villas and storefront windows updates while ensuring maximum utilization of daylight in such projects,
by solar heat input of ordinary double glazing reduces summer cooling loads by limiting 40%.
Neutral 62/44; high light transmittance, heat and solar control requested
housing, offers solutions for projects such as schools.
Neutral 50/33; optimum light transmission, thermal control and solar control effective claimed
certified as LEED and BREEAM green building, office, hotel, offers solutions for projects such as hospitals.
Neutral 41/27; In controlled daylight and more efficient skylights or solar control desired
It is preferred in warm climates.
Advantages
Low-E glass can be tempered solar Sisecam Sisecam Flat Glass can be tempered heat and solar control glass.
with a single coating provides solar control and thermal insulation together.
Heating and cooling costs are reduced.
with different performance options provide solutions to the different needs of the project.
Architectural expansion of the glass surfaces in buildings and in line with the trend increase in the thickness of the glass meets the safety requirements with nature. When the glass breaks, it eliminates the risk of injury divided into small pieces without sharp.
Fog delays that occur on the glass surface.
Cold winter in front of a window, type the önler.ür to be warm I tanımışişeca can be tempered solar Low-E glass, Sisecam Flat Glass Tempering can heat and solar control camıdır.akredit to Isıcam Authorized Manufacturers (II) by Sisecam Tempering may Solar Low-E double glazing units are produced using glass , Insulating glass Tempering I can sunulur.şişeca market under the name KT Solar glass Low-E insulating glass made with KT, reducing heat loss by 50% compared to ordinary double glazing winter fuel costs; solar heat input while reducing cooling costs in the summer saves 40-65% compared with ordinary double glazing. Tempered heat and solar control glass, a glass-temper by about 5 times more resistant.
Colors
Low-E glass can be tempered solar, green on demand as well as my clear float, smoked, can also be applied to bronze and blue tinted glass.
Product description
Low-E glass may be tempered şişecam Solar flat glass in a vacuum by electron scattering method on a thin metal / metal oxide layer line obtained by application of non-coated glass
Performance Tables


"Daylight" and "Solar Energy" values, using spectral data measured in the laboratory according to EN 410 standard, "TNO Science and Industry" – is calculated at 3:01 WISE software package.
The value of the thermal conductivity coefficient was calculated according to standard EN 673 with WIS 3.01.
Emissivity values ​​used in each account, in vitro EN 673 (Appendix A) and measured according to EN 12898.
exposure to solar radiation throughout the surface of the glass piece, the temperature differences between day and night, because of factors such as heat absorption coefficients of the glass of the sexes may arise or chopping risk of thermal breakage.
Depending on these factors require the use of tempered or partially tempered glass.
This document does not have any calculation for thermal breakage risks.
For questions regarding this matter please contact Sisecam Flat Glass.
This document is for informational purposes only and the information they contain can be changed by Sisecam Flat Glass without any warning.
In this document the differences between the actual value depending on the conditions of the place of use with a given value may occur.
Because of these differences Sisecam Flat Glass in no way be held responsible.
Daylight Permeability is the percentage of the light from the window glass.
Daylight Mirror (external): The percentage of incoming light reflected back by the window glass.
Total Solar Energy Transmission: The total percentage of incoming solar energy is coming on the glass.
Lower total solar energy transmittance value, the better the solar control.
Shading Coefficient: Solar energy is compared to the total permeability of 3 mm colorless.
The lower shading coefficient means better solar control.
Thermal Conductivity: the glass is a measure of thermal insulation.
The lower the value, the better the thermal insulation, heating costs and less means more winter comfort.
_
Get Information for Your New Project
Feel the difference experienced team and corporate experience