SIZE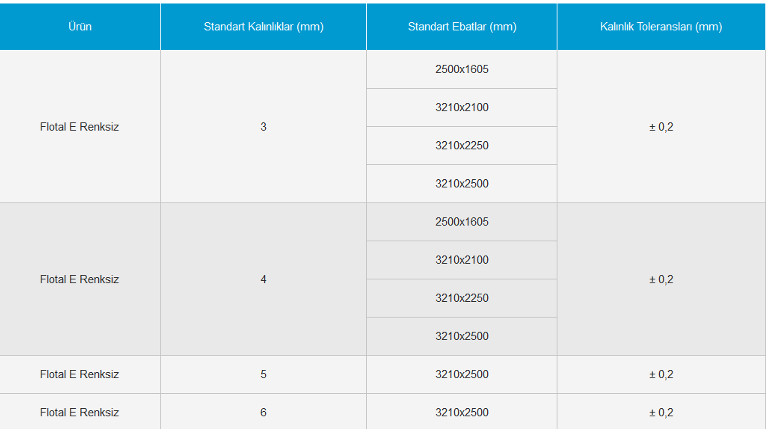 USAGE AREA
Float mirror is preferable in the following areas;
Bathrooms
In the bedrooms,
In kitchens,
In stores,
sports and exhibition halls,
In kindergartens,
Indoors it used to add depth and dimension.
Locations of larger, spacious, deep, is suitable for use in areas where high and bright intended to be shown.
ADVANTAGES
Float M, it is a trademark of Sisecam Flat Glass ecological mirror.
The interior space is illuminated by reflecting sunlight and artificial light.
The aesthetic and refreshment areas where applied.
Narrow, distorted and adds new dimensions to the dimly lit places.
It is produced by copper and lead.
Eco-friendly is made less waste during the production process.
It is resistant to high atmospheric humidity.
High corrosion resistance sahiptir.flotal M, illuminating the place with Sisecam Flat Glass markasıdır.yansıtıc of the ecological mirror feature is a decorative material for enriching expanding enlarge.
Colors
Float E standard as a colorless, gray, depending on demand, bronze, blue and green colors are produced in
PRODUCT DESCRIPTION
Float E Ecological mirror with high strength is manufactured with copper and lead-free chemical -boya mirror. After mirror polishing and cleaning on my hamca production of high quality made of silver based on the principle to obtain the reflective layer by coating. the paint layers are used for the protection of the silver layer with high reflective properties. Less rigid during the production of float E / gas waste occurs.
Float E used in the production is 100% lead-free paint top protector age. Age primer contains less than 0.5% lead by weight of the salt.
_
Get Information for Your New Project
Feel the difference of the experienced team and corporate experience